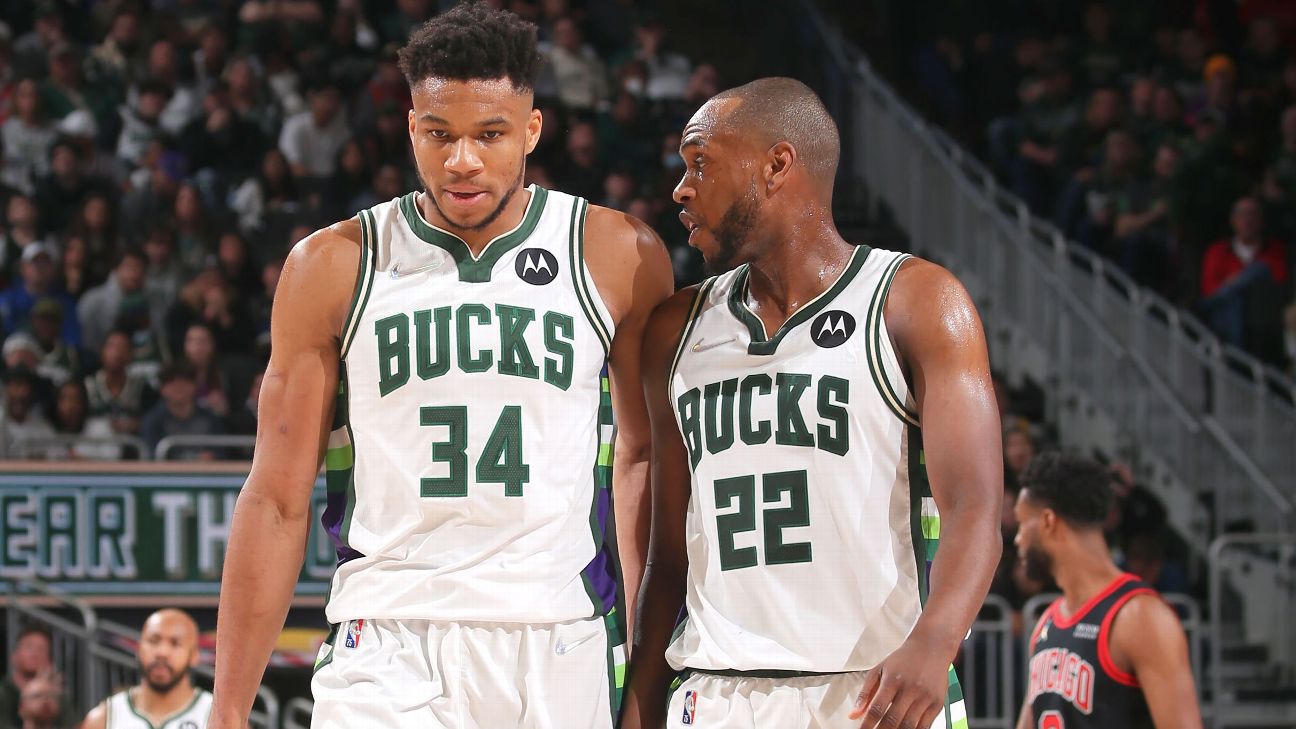 MILWAUKEE — On the way to winning their first NBA championship, the Milwaukee Bucks transformed into a defensive juggernaut during the postseason, finishing No. 1 among playoff teams in defensive efficiency after placing near the bottom of the top 10 during the regular season.
The Bucks dipped to the No.14 in defense during the 2021-22 regular season. But they once again turned up the intensity for the start of the postseason on Sunday, smothering the Chicago Bulls offense en route to a 93-86 Game 1 victory in Milwaukee.
"Sometimes you got to win ugly," Bucks coach Mike Budenholzer said. "It's not always going to be pretty or perfect."
Milwaukee began the game hot, jumping out to a 9-0 lead and building a 16-point first quarter advantage over its division rival after sweeping them in all four games in their regular-season series. But the Bulls stormed back to make the game competitive and even took a lead in the third quarter before the Bucks recovered in the fourth.
"They made a couple more winning plays than we did," Bulls guard Zach LaVine said.
Entering Sunday, the Bucks had lost five of their past six Game 1s during their last two playoff runs, with their lone win coming against the Miami Heat in Game 1 of the opening round last year. But they came away with a victory on Sunday despite 21 turnovers, an uncharacteristic poor performance from Khris Middleton, who shot 4 of 13 (1-for-7 from 3) for 11 points with seven turnovers and zero points from Giannis Antetokounmpo in the fourth quarter.
"So many reasons why the game was ugly," Antetokounmpo, who finished with 27 points and 16 rebounds, said. "Wasn't able to make open shots, wasn't able to get to our spots. Not just for us, both teams. I think not playing the game for a couple days, gets you out of rhythm. But at the end of the day a win is a win. We really didn't want to be down 0-1."
Milwaukee got defensive contributions from all over the floor on Sunday.
Antetokounmpo battled foul trouble that limited his minutes during the fourth quarter, but he continued to be a disruptor defensively whenever the Bulls came near him. Chicago went 3-for-11 with Antetokounmpo as the closest defender, according to ESPN Stats & Information research.
On the perimeter, Jrue Holiday and Wesley Matthews combined to slow down DeMar DeRozan and LaVine, who together shot 6 of 25 whenever one of those two players were the primary defender. Chicago's Big 3 of DeRozan, LaVine and Nikola Vucevic combined to shoot 21-for-71 (29.6%) from the field and 4 of 22 from 3.
"I don't know what the hell was going on," DeRozan said. "It just wasn't me. All of us. I guarantee, me, Zach and Vooch are not going to miss that many shots again. We just got to keep what we did defensively up and try to take that to another level."
DeRozan, who finished with 18 points in 43 minutes, said he was happy with most of the shots he took.
"I'll live with them again," he said. "No way in hell I'll shoot 6 of 25 again."
Overall, the Bulls shot 32.3% from the field and 18.9% from 3.
And in the fourth quarter with both Antetokounmpo and LaVine managing foul trouble, it was Holiday's defense that helped make the difference.
The Bulls went 0-for-7 in the fourth quarter with Holiday as the primary defender, according to ESPN Stats & Information, and Holiday contested all seven shot attempts.
"Guys like Wes, Jrue and Khris and they just take such great pride in playing good defense," Bucks center Brook Lopez said. "They stepped it up even more at the end of the game. They knew we needed the stops, so they were totally 100% locked in and we got the job done."
Chicago has had its issues competing against the top teams in the East this season (1-14 against the top 4 seeds during the regular season) and putting together a competitive game against Milwaukee represents a step forward compared to their last two regular season matchups.
But considering the Bulls had a chance to win Game 1 down the stretch, Sunday's game felt like a missed opportunity to DeRozan.
"Yeah, I mean, it is what it is now," DeRozan said. "They did what they were supposed to at home. We've got another opportunity to steal home court and that's our goal now. We've got a lot to dissect from this game, to be able to come in and look over a lot of stuff tomorrow, try to clean up and be better at it. It definitely sucks, the missed opportunity, but we got one more opportunity here in Milwaukee before we go back to Chicago."