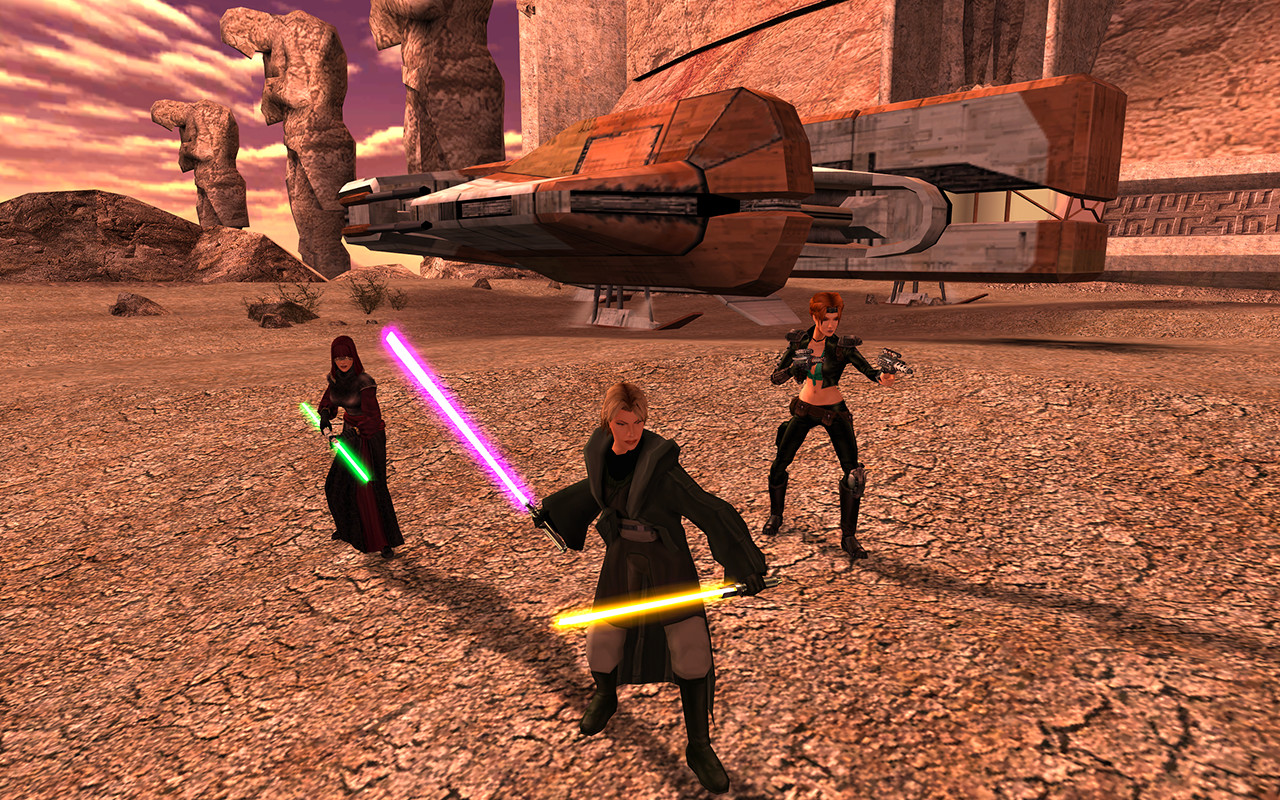 There are some video games that seem to change everything. Their genre, the art form, what we think a game could be. Orion Kellogg, executive producer at Lucas Games, and Ryan Treadwell, lead producer at Aspyr, consider Star Wars: Knights of the old Republic(known to fans as KOTOR) among those rare works.
"I was a big RPG fan growing up. I started on the Apple IIC and played all the BioWare games. It wasn't until I started playing KOTOR that I really understood how cinematic they could be," Kellogg tells StarWars.com. "When I first put in KOTOR and saw that the camera was pulled down to ground level and I could look up at the skyscrapers of Taris, I really felt that I'd been put in the world in a way that I never had before. The characters were speaking to me in full VO [voiceover] and reacting to my choices, whether I was going light side or dark. It felt like it was a paradigm shift."
"When I was 9, my parents did two things that were incredibly impactful: they bought me my first video game console — an original Gameboy — and they sat me down to watch a VHS copy of A New Hope. One set me on my career path, the other kick-started my love of storytelling," says Treadwell. "When KOTOR was released it married those two passions brilliantly. I was so excited to finally create my hero and explore the galaxy, making the choices I wanted to. As a kid I would pretend to create my own lightsaber out of wrapping paper rolls and this game was letting me customize my own. I was enamored and an instant fan."
That personal connection for Kellogg and Treadwell has new meaning today. Announced at PlayStation Showcase 2021, Star Wars: Knights of the Old Republic – Remake will see the classic RPG return as a PlayStation 5 console exclusive at launch and for PC. Aspyr — the Texas-based studio that has collaborated with Lucasfilm on various projects for over a decade, including a recent spate of well-received re-releases from the LucasArts era — is handling development, rebuilding the game from the ground-up. So to borrow a line from Darth Vader, the circle is now complete for Kellogg and Treadwell.
"I really, really think that RPGs have never been the same since," says Kellogg. "It's a big honor to have the opportunity to work on it."
"Speaking for the development team, most of us are triple-A RPG developers," says Treadwell. "This has been something that is a dream for all of us."
Today, KOTOR stands as one of the most critically acclaimed Star Wars games ever, with the PC version amassing a current score of 93 on Metacritic. Fans have long requested a remake to bring the title, originally developed by BioWare and LucasArts, up to modern standards. As it turns out, Lucasfilm has been listening.
"We know that KOTOR is one of the most beloved Star Wars stories ever told," Kellogg says. "We really appreciate the stature it has with all of the fans out there. As hardware advances and as our game-making prowess advances and as storytelling [techniques] advance, what better time to allow players to re-experience this great story with all of those lessons learned, and bring it back to modern platforms using modern methods? That's something I've wanted to do personally for a very long time, and I think everybody involved with Star Wars games has wanted to do for a very long time."
"From our side, the relationship that we have with KOTOR is long, as well," says Treadwell, referencing the company's ports of the original game to iPhone and iPad. "It's something that we've been very excited about and interested in for quite a long time. We're just really excited to get in there and do this amazing game justice."
"We have had a long and fruitful working relationship," says Kellogg of Aspyr. "We knew that they understood the brand, we knew they understood how to collaborate with us, and we felt really good about that. Then, to start seeing the team that they're building and the developers that they're adding from a variety of triple-A, top-notch development studios from around the world, we knew that they were ready to take that step. So we're really happy to be working with them." Aspyr and Lucasfilm Games aren't in it alone, however.
Sony Interactive Entertainment (SIE) is a creative collaborator in the project, working closely on development with Aspyr and Lucasfilm Games, particularly on how to take full advantage of its newest, cutting-edge platform.
"Having SIE on board has been fantastic," says Kellogg. "They're helping all of us navigate this space and navigate their hardware with an inside track on the cutting edge."
KOTOR, which is part of Legends storytelling, dials the Star Wars clock back to over 4,000 years before the Skywalker saga. The Galactic Republic is at its height and has just been through a major war. Jedi are plentiful, but so are the Sith, and the evil Darth Malak leads a growing legion of dark warriors. Players will go on an epic adventure and, along the way, visit different worlds, amass a party of memorable beings, and uncover their own mysterious past.
"It's telling a story that should feel very familiar and authentic to Star Wars fans. It tells stories about light and dark, about heroes, and the journeys that common people can go on to become heroes and figure out who they are," Kellogg says.
One of the breakout characters from KOTOR, Revan, has only grown in stature over the years with fans.
"Revan's is a heroic tale of succumbing to the dark side," says Treadwell. "It is a deep and impactful story that has a ton of depth and interest." (Indeed, Hasbro's Revan Force FX Elite lightsaber sits behind Treadwell on a credenza in his home, proudly on display during the Zoom call for this interview.)
"Plus, Revan looks really cool," adds Kellogg. "We can't forget that."
Though he won't give specifics, Treadwell says development on KOTOR – Remake has been active "for a little while," and in close collaboration with Lucasfilm Games.
"There's a lot to build on this one, so we've been having a lot of great conversations on how to build what we're doing, what are the pillars of the game, and coming up with all of that together," Treadwell says. And there's a specific reason that Aspyr and Lucasfilm are taking their time in these early stages, and having those conversations.
Remakes in any medium can be a dicey proposition. Change too much and you can ruin the magic; change too little and what's the point? Then there's the weight of fan expectation. Kellogg and Treadwell, as fans themselves, understand all of this completely and have it top of mind.
"This is something that is important and impactful," says Treadwell. "Our big goals on this are to bring the story to a modern audience and have it be just as impactful today as it was for players when it originally launched."
"We've been working really, really closely with Aspyr for a long time now to deconstruct what made KOTOR so great and bring that back to new audiences, because we want this game to be an incredible RPG," says Kellogg. "We want this game to be just as beloved as it was before. Some of my favorite meetings to have in my week right now are to get into the nitty gritty with Aspyr and talk about, 'Why did we make that choice in the original game and how does that play today? How do we expand that choice and make it even more meaningful and impactful?' We think about, literally, every word of dialogue and [other choices] down to the clothes that the character is wearing."
"We're very lucky that we played this when it came out and we have those memories," adds Treadwell. "Because I really think a great and true approach to a remake process is to understand what that game was at that moment in time and what the memory of that game was at that moment in time. Our labor of love here is to go and realize that memory as if it were built today." To achieve this, Aspyr has bolstered its ranks, including some secret weapons.
"Remaking a beloved game like KOTOR is a big task, and it requires a talented team that understands the original game at a deep level, as well as how to approach rebuilding that content," says Treadwell. "We've assembled a prolific group of some of gaming's top RPG developers, including those with direct experience working on Star Wars games and video game remakes. Many of us previously worked at BioWare, with credits going back to the original KOTOR. To further bolster that, we've added some amazing developers from games like Demon's Souls Remake and Ghost of Tsushima. And our narrative team is fantastic, with years of storytelling experience across Star Wars games and comics. We also have Jason Minor and Brad Prince on the team, whose experience with the world, characters, and creatures of this universe is invaluable. And I'm excited to partner once again with Matt Berner, our lead gameplay designer. We worked together on Dragon Age: Inquisition, and we immediately fell back into our old rhythm."
For Kellogg and Treadwell, access to those who worked on the original KOTOR is particularly important. "We can say, 'What were you trying to do and why did you do it this way? Let's make sure that we have the same goals in mind as we re-approach it this time,'" says Kellogg. "We're just going to be able to do more things with asset variety and fidelity and storytelling that just weren't possible then, but are still going to meet the same goals."
The teaser trailer revealed at PlayStation Showcase and available to view above doesn't show much, but it does feature a very-cool looking Revan — and a voice that fans of the original might recognize.
"I can confirm that that is Jennifer Hale. We all think the world of Jennifer. She is an amazing talent and immediately slipped back into the role of Bastila when she came to help us with the teaser trailer," Treadwell says. "I do think that you're going to see some other familiar voices return, but that's probably as deep as we're gonna go on that one right now."
Still, in terms of graphics and feel, the teaser trailer does convey something else about the game.
"It is absolutely going to be a cutting-edge experience," Kellogg says.
Honoring the past, looking toward the future      
For many, KOTOR is not just among the best Star Wars games ever, but one of the best video games full-stop. The teams working on KOTOR – Remake take that legacy seriously. And in honoring that legacy, the hope for Lucasfilm Games and Aspyr is that a whole new generation of gamers who've never played it will pick up controllers.
"I think KOTOR has its reputation for a reason," Kellogg says. "So if you want to know what all the buzz is about, there's no better time to give it a try than when the remake drops. It's an invitation to be a hero. It's an invitation to explore the galaxy in a way that you haven't seen anywhere else. And it's just a really great, fun RPG to play, and replay on top of that."
And for those who have loved KOTOR through the years, it's a chance to experience something cherished in a new way. From the sound of it, KOTOR – Remake is no nostalgia trip; rather, it's a love letter to what is widely considered a Star Wars masterpiece.
"This is a crown jewel of the Star Wars gaming lineup, and we wouldn't be so excited to share it with everybody if we weren't absolutely confident it was going to be an awesome game," Kellogg says. "We trust Aspyr, we trust the team that's working on it, and we're doing the work ourselves to dig in, deconstruct, and reconnect to why people love it because we don't want to mess with that. We love it, too, and so we want to do it right. We hope everybody feels we've done this game a service when all is said and done."
While there's a long way to go, Treadwell and Kellogg are already appreciative of the opportunity to work on a title they hold dear.
"This has been one of my favorite games," says Treadwell. "I'm of course a big Star Wars fan, and it has just been a dream come true to spend hours and hours talking about Gamorreans and Sith and all of the fun things that we get to do."
"I've been making Star Wars games for a long time, and this is why we do it," Kellogg says. "We get to have the opportunity to retell one of the greatest Star Wars stories ever told. I feel nothing but excited and thankful for the chance to get to work on it, and hope everybody really loves it."
OVERVIEW
OnMyWay Is The #1 Distracted Driving Mobile App In The Nation!
OnMyWay, based in Charleston, SC, The Only Mobile App That Pays its Users Not to Text and Drive.
The #1 cause of death among young adults ages 16-27 is Car Accidents, with the majority related to Distracted Driving.
OnMyWay's mission is to reverse this epidemic through positive rewards. Users get paid for every mile they do not text and drive and can refer their friends to get compensated for them as well.
The money earned can then be used for Cash Cards, Gift Cards, Travel Deals and Much, Much More….
The company also makes it a point to let users know that OnMyWay does NOT sell users data and only tracks them for purposes of providing a better experience while using the app.
The OnMyWay app is free to download and is currently available on both the App Store for iPhones and Google Play for Android @ OnMyWay; Drive Safe, Get Paid.
Download App Now – https://r.onmyway.com
Sponsors and advertisers can contact the company directly through their website @ www.onmyway.com.