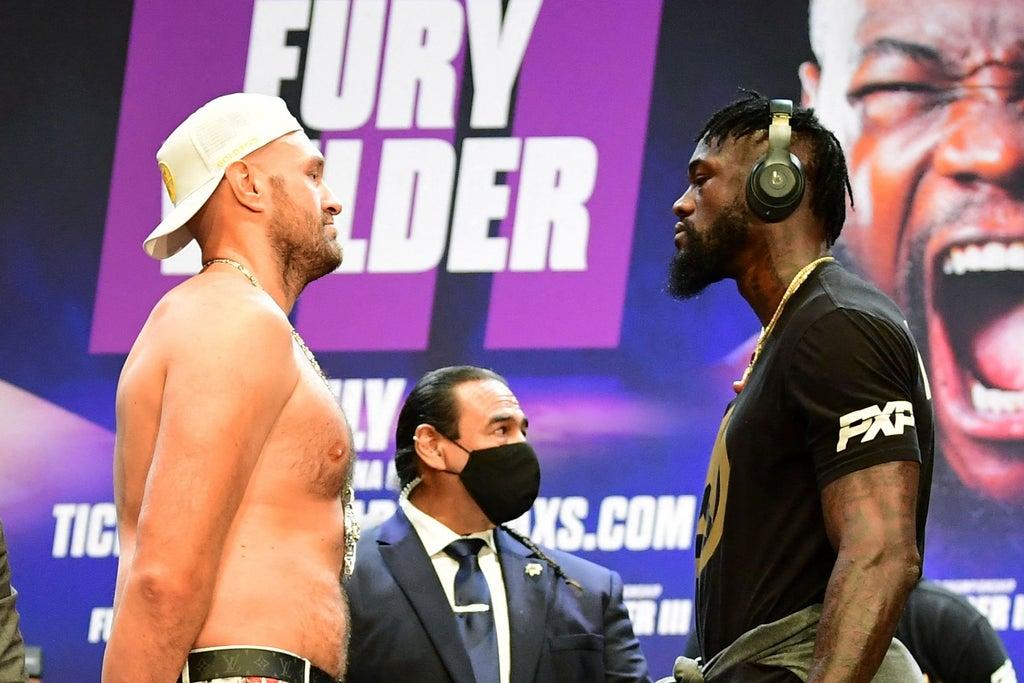 The pair of heavyweight titans collide once more in Las Vegas on Saturday night with the WBC title on the line
In what was originally seen as somewhat of a gratuitous third meeting due to a contractual obligation has quickly turned into must-see TV as WBC and lineal heavyweight champion Tyson Fury collides with Deontay Wilder in Saturday's pay-per-view trilogy.
Former unified champion Anthony Joshua's upset loss to Oleksandr Usyk two weeks ago flipped the immediate future of the sport's glamour division upside down, which only added to the stakes of a third Fury-Wilder fight, some 20 months after Fury scored a seventh-round TKO in their rematch.
The winner of this unexpected third fight, which takes place inside T-Mobile Arena in Las Vegas, could find himself as the power player in the division moving forward as the heavyweight face of record from a commercial standpoint. The good news for fans is that action is expected regardless of how it all plays out as both have been outspoken about their dislike for one another as Wilder (42-1-1, 41 KOs) seeks revenge for the unfounded accusations he made against Fury (30-0-1, 21 KOs) for cheating back in 2020.
Although Wilder, 35, scored a pair of knockdowns during their controversial split draw in 2018, he has lost the majority of the 19 rounds between the two in the series. That hasn't slowed his confidence, however, even after being stopped for the first time in their rematch when now-fired assistant trainer Mark Breland threw in the towel to save Wilder from a one-sided beating.
"It's definitely going to be a war but I don't think [Fury] is going to be able to stand toe to toe with me," Wilder told CBS Sports on Thursday. "Even on my worst day, in the condition that I was in, he couldn't get me out of there. I finished the fight on my feet. I had a disloyal trainer throw in the towel when I had told him for many years before to never throw a towel in. You don't throw a towel in on a warrior, a king like myself. You let him fight to the end because I do have the equalizer."
The 33-year-old Fury enters as the rightful betting favorite after bulking up for the rematch and adding the offensive-based SugarHill Steward as new head trainer. The change led to Fury eschewing his slick and defensive boxing ways from their first meeting to bring the fight directly to Wilder from the opening bell.
Not only did Fury expose Wilder's inability to fight going backwards, he gained a significant psychological edge by standing up to the bigger puncher while using his size and weight advantage to lean all over his wounded foe.
Wilder remains a live underdog because of his punching power but also due to the positive changes he made during the nearly two-year break between fights. Wilder recalibrated the team around him, adding new trainers Malik Scott and Don House. He also posted multiple videos from training camp showing his newfound commitment to body punching.
Whether or not that means Wilder will be effective remains to be seen. Fury isn't convinced anything new about Wilder will factor into the results.
"You can go to college and get a master's degree in nearly two years, so for a boxer, that's very easy to do," Fury said during Wednesday's final press conference. "But no matter what Deontay Wilder does, I'm still going to knock him the f— out … [in] quick time, quick fashion. Like my trainer SugarHill says, we just bang and get it over with."
Wilder has stuck by his assertion that everyone from Fury to the referee, the Nevada commission and even members of his own team contributed to a conspiracy meant to bring him down during their rematch. And even though he blamed the 40-pound costume he wore to the ring on that night for weakening him during the fight, he still plans on just as elaborate an entrance for Saturday night, as well.
It's a wild juxtaposition to behold. Yet it's clear Wilder isn't worried about what his comments have done for his public reputation, which makes even an armchair psychologist realize it's all part of what fuels him to be his best.
"I don't have nothing to prove," Wilder said. "I'm in a great place, a great state of mind and have always been. I have a lot of great people around me that have been covering me all this time. There is nothing to prove at all. This right here is redemption, retaliation and retribution; all of the above."
Fury, however, has attributed all of Wilder's quirks to be a sign of weakness.
"It just shows you that I'm living in Wilder's mind rent free, the whole time, two years," Fury said. "Every time he looks in the mirror, he sees Tyson Fury. Every time he goes to bed before he closes his eyes at night, he sees the 'Gypsy King.' And when he wakes up and thinks about it in the morning, he thinks of Tyson Fury. It must be crazy to be obsessed with a man like me, so much of his life. It's just crazy."
As it pertains to handicapping how the third fight will play out, the good news for Wilder is that the same equation is in play that has always been there throughout his career.
"My favorite quote is that these guys have to be perfect for 12 rounds. I only have to be perfect for two seconds," Wilder said. "I'm one of the most dangerous — if not the most dangerous – fighters in the sport of boxing history with my knockout power and it doesn't diminish. It goes all the way from the first [round] to the 12th and that's what makes me very dangerous."
The undercard is as deep as it gets on the PPV level with each bout carrying a level of interest and each taking place in the heavyweight division. Cuban Frank Sanchez will battle Efe Ajagba in the co-main event between a pair of rising prospects. Adam Kowancki looks to get his revenge on Robert Helenius after Helenius scored a shocking upset knockout in March 2020. And top American prospect Jared "Big Baby" Anderson takes on veteran Vladimir Tereshkin to kick things off.
But that's not all you need to know about this weekend. The prelims features another heavy hitter making his return to the ring when Edgar Berlanga enters a super middleweight showdown with Marcelo Esteban Coceres. Berlanga tied the all-time record for a start to a career with 16 consecutive first-round knockouts. That streak ended in April when he earned a decision against Demond Nicholson, but he looks to restart that streak on Saturday night.
Let's take a closer look at the fight card and odds before making a prediction on the main event.
Fury vs. Wilder 3 fight card, odds
Odds via Caesars Sportsbook
Tyson Fury (c) -270 vs. Deontay Wilder +220, WBC heavyweight championship
Frank Sanchez -180 vs. Efe Ajagba +155, heavyweights
Adam Kownacki -220 vs. Robert Helenius +180, heavyweights
Jared Anderson -1500 vs. Vladimir Tereshkin +800, heavyweights
Prediction
This has all the makings to be a firefight for as long as it lasts. Although Fury's outward motives were questioned ahead of their 2020 rematch when he boldly announced he was going for the knockout, his prediction proved gospel given his performance, which included a noted lack of resistance from a shellshocked Wilder.
Fury has predicted yet another early stoppage and there's plenty of reason to believe both that it's possible and that it remains his best strategy. Although everyone from critics to Fury himself should expect an improved Wilder with nothing to lose as he enters his last shot at redemption, the best way to beat a bully remains standing up to him.
It goes without saying that Fury will need to balance his aggression smartly without bordering on being reckless. One mistake can be one too many against a foe this dangerous. Yet Fury's unique combo of size, speed and elusiveness should be enough to do so.
Whatever Wilder has left, he will be the most dangerous early.
Unlike his title reign, which often came against smaller foes not even remotely as skilled as Fury, Wilder has often relied upon waiting for his opponents to tire just enough to make a crucial mistake to open up angles for his big power to finish the fight. Wilder simply doesn't have that luxury against this version of Fury and will need to channel the aggression he showed in his 2017 rematch with Bermane Stiverne by essentially going for broke in hopes of creating a shootout.
Don't be surprised if Fury gets clipped or even knocked down on his road to victory in this third fight. Just be prepared for him to get up — again — before using his guile and technique to finish the job in the most violent and exciting chapter of their rivalry.