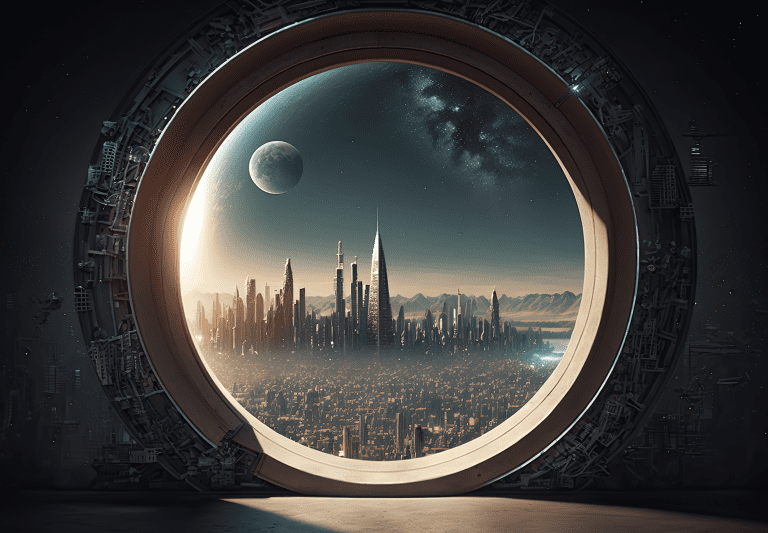 The Future Is Here… Stand Out, Grow Your Clients and Keep Them!
Attention Advertising, Marketing and PR Agencies
Revolutionize Your Agency Portfolio with OnMyWay Social Impact Ads: The Trailblazing Solution to Skyrocket Client Retention and Acquisition"
In a world saturated with advertisements vying for a fragment of consumers' attention, standing out in the advertising domain has become a Herculean task for agencies. The familiar ad avenues are now crowded, and, unsettlingly, infiltrated by bots which diminish the real value delivered to clients.
However, a groundbreaking solution has emerged – OnMyWay Social Impact Ads. This novel advertising medium is not just a game-changer for ad/marketing agencies but a necessary addition to their service offering.
OnMyWay Social Impact Ads transcend the conventional advertising mold by integrating social responsibility with brand promotion.
It's a dual-edged sword: reducing the peril of distracted driving while simultaneously creating a positive social imprint of the brand in the minds of consumers. In doing so, it addresses the silent yet hefty liability companies bear regarding distracted driving by their employees.
The potency of this advertising model is its capability to resonate on a humane level, something that is largely untouched by conventional advertising strategies.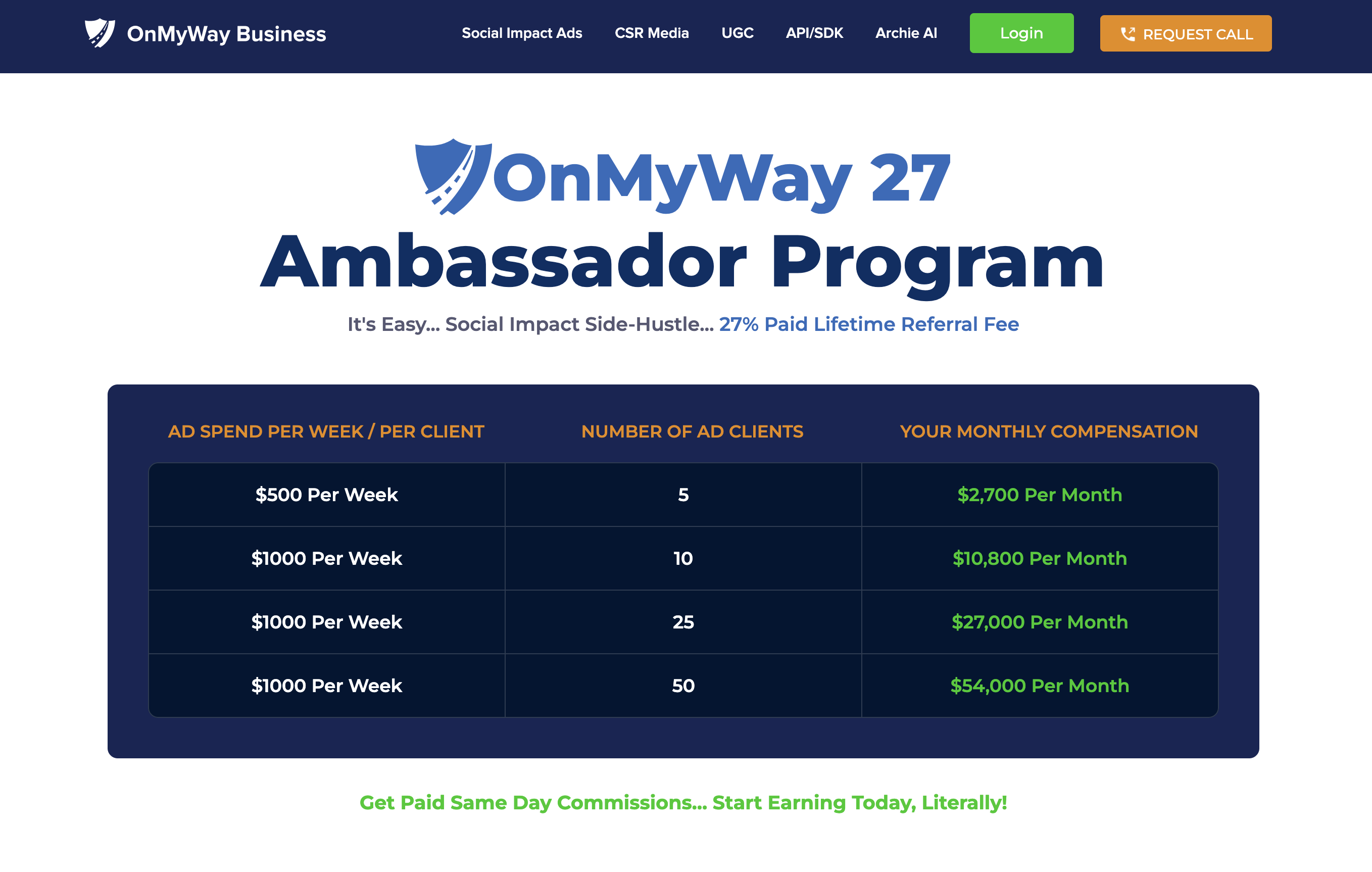 Here are compelling reasons why OnMyWay Social Impact Ads are indispensable for ad/marketing agencies:
Cease Client Churn, Propel Client Acquisition:
The innovative appeal of Social Impact Ads acts as a magnet for new clients while the tangible social and safety benefits it delivers, fortify existing client relationships.
It's a persuasive proposition to companies looking to enhance their social standing and community engagement.
Highest Commissions in The Industry:
OnMyWay doesn't just change the game; it rewards the players exceedingly well. Agencies partnering with OnMyWay enjoy the highest commissions in the industry, creating a lucrative win-win scenario.
Distinctive Agency Branding:
Offering OnMyWay Social Impact Ads as part of your portfolio places your agency on a distinctive pedestal. It reflects an evolved, forward-thinking, and socially responsible ethos that distinguishes you from the multitude pushing the same old ad options.
Unparalleled Value to Clients:
In an era where every marketing dollar is scrutinized for ROI, the tangible societal value coupled with brand enhancement that Social Impact Ads provide is unparalleled. It's not just an ad; it's a narrative of care, responsibility, and community engagement.
Cost-Friendly For Small Businesses to Fortune 500 Starting at $50 Per Day:
With campaigns starting as low as $50 per day, the financial entry point is accessible for a broad spectrum of clients. This cost-efficiency paired with the high-impact outcome makes it an irresistible offer.
Immediate Implementation, Immediate Impact:
The turn-around time from adoption to implementation is minimal with OnMyWay. Agencies can swiftly integrate Social Impact Ads into their strategies, witnessing an immediate positive impact.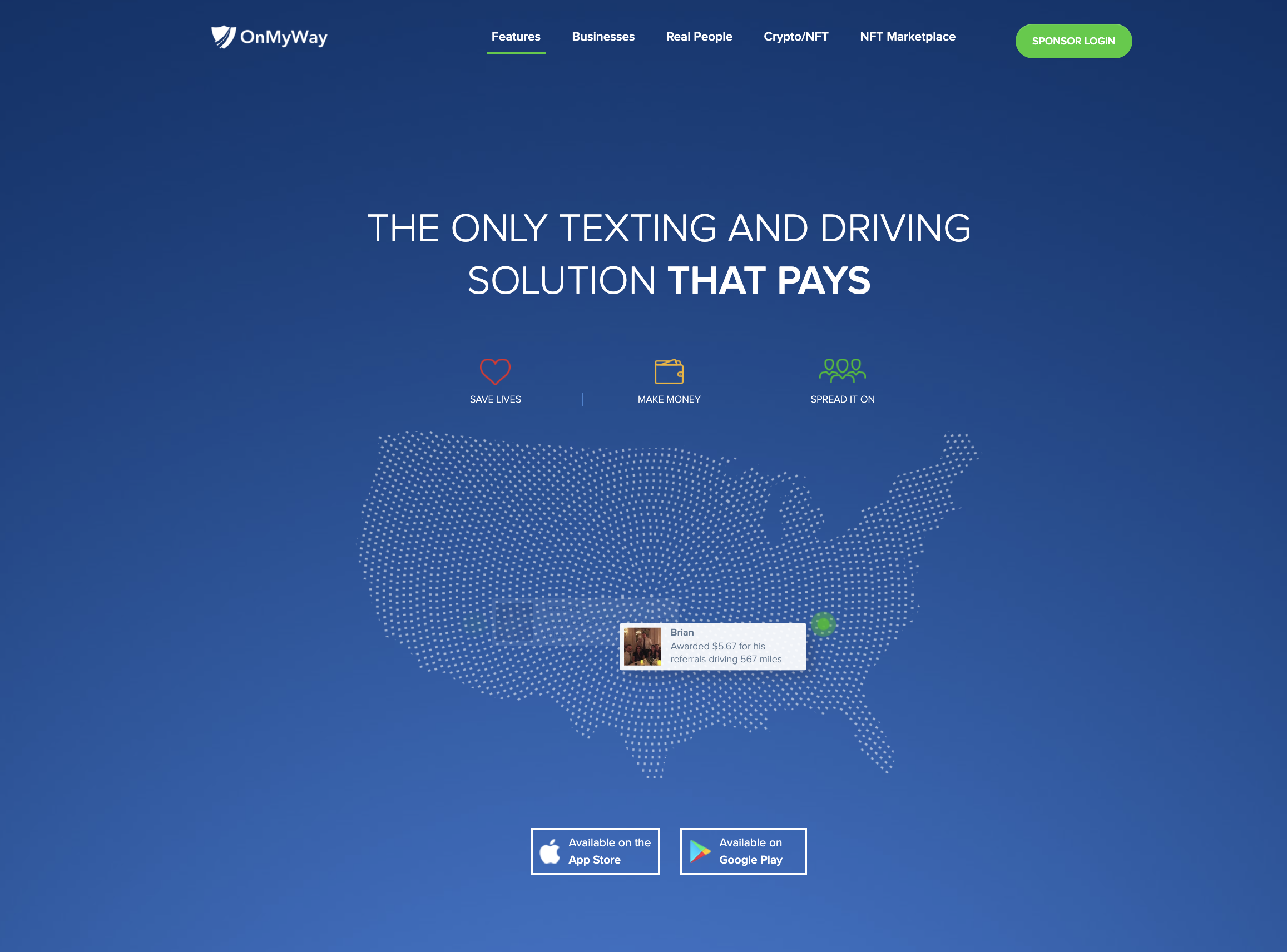 OnMyWay Social Impact Ads are not merely an advertising alternative; they are a testament to an agency's progressive ethos and a direct conduit to enhanced brand goodwill for clients.
By adopting this avant-garde advertising medium, agencies can robustly position themselves as leaders in the contemporary advertising realm, adept at delivering unmatched value while contributing to a crucial social cause.
In a world where distinction is the currency of growth, OnMyWay Social Impact Ads are the golden ticket to an agency's monumental success in client retention, acquisition, and societal impact.
Website – https://onmyway.com/