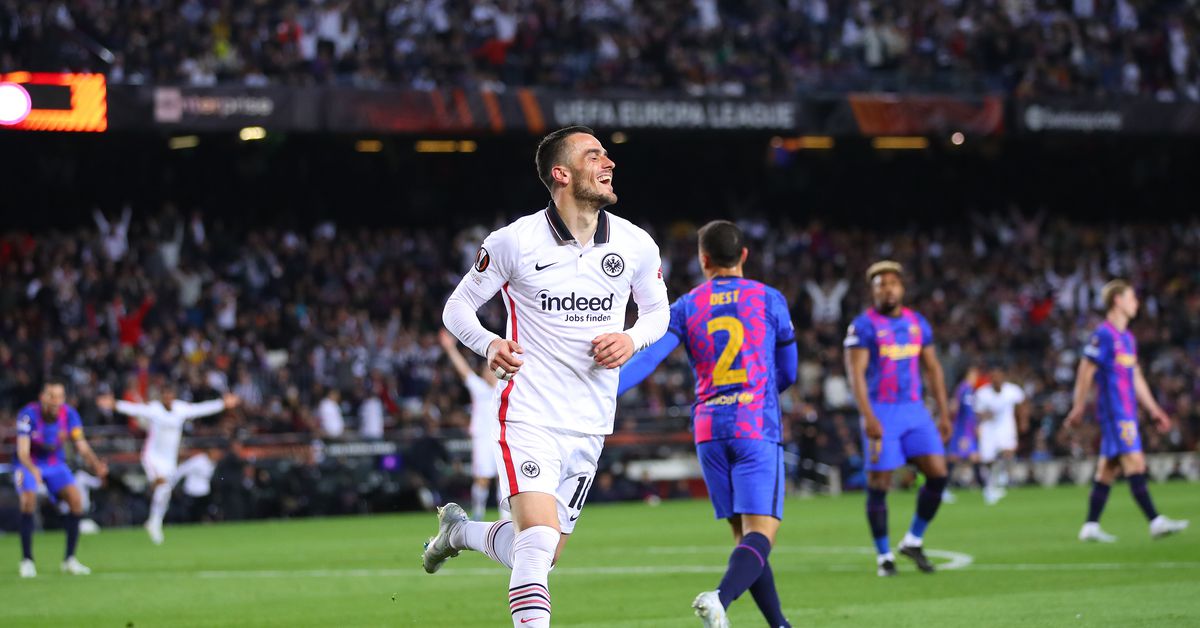 An utterly disastrous showing at the Camp Now saw Barcelona crash out of Europe at the hands of Eintracht Frankfurt. A brace by Filip Kostic saw the German side through into the Europa League semifinals with a resounding 3-2 upset victory at the famous Catalan arena, pushing the visitors past Barcelona 4-3 on aggregate.
Barcelona held 75 percent possession throughout the proceedings, but could not generate good chances, with just 10 total shots across the match to Frankfurt's 15, most of which came in the final minutes as the hosts scrambled for a late miracle. The few chances Barcelona did create went begging, with Pierre-Emerick Aubameyang missing the biggest opportunity just after halftime.
Kostic opened the scoring on a fourth-minute penalty after a foul by Eric Garcia, and there was little response from Barcelona. A great goal by Rafael Borre put the German side 2-0 up before halftime, and it would compound after the break. Kostic got his second from open play after the hour mark, and that essentially closed the door on Barcelona's European hopes.
Sergio Busquets picked up a consolation goal early in stoppage time with a blistering strike that was befitting of a better game, but was instead wasted in an otherwise forgettable performance. A penalty converted by Memphis Depay closed was the final play of the match for a 3-2 final result in the second leg.
The story of the match, aside from Frankfurt's devastating counter and comfortable defending, was the reported 30,000 Frankfurt fans that made the trip, dotting the Camp Nou in white.
Goals:
4th min — FRA — Filip Kostic (pen)
36th min — FRA — Rafael Borre
67th min — FRA — Filip Kostic
91st+ min — BAR — Sergio Busquets
100th+ min — BAR — Memphis Depay (pen)
Full-time: Barcelona 2-3 Eintracht Frankfurt
The whistle blows on the stroke of the restart, and Barcelona is eliminated from the Europa League 4-3 on aggregate.
It's a famous win for the German side at one of the most famous grounds in the world, while Barcelona's quest for a first Europa League championship is over. A calamitous performance from the hosts produces a shocking result, as a reported 30,000 Frankfurt fans were on hand to watch the action at the Camp Nou.
90+10 min: GOAL, Barcelona! How unlucky for Frankfurt! Trapp saves the penalty from Memphis Depay, but the ball pops up into the underside of the crossbar and comes back down just over the line. Trapp thinks he's saved it, but goal line technology tells the official it's a smidge over the line for Barcelona's second.
90+9 min: PENALTY, Barcelona! Barcelona has a spot-kick and Ndicka is sent off! It's a very soft penalty given by the official, as he went up for a 50-50 header with De Jong, but the referee says he went over the Dutchman's back. That's a second yellow card for Ndicka, and Frankfurt is down to 10 men. It's almost certainly not going to be enough for Barcelona, but there's a glimmer of hope.
90+6 min: Three yellow cards have been handed out in quick succession, with Ansgar Knauff getting the latest for a hard challenge on Busquets in midfield. Dembele and Frankfurt defender Evan Ndicka also into the book.
Then, Xavi is cautioned on the Barcelona sideline as the frustration boils over.
90+1 min: GOAL! Barcelona! Finally, mercifully, Barcelona has a goal. It's actually a beautiful strike off the foot of Busquets, who makes up for his error moments ago. A half-volley with venom, it crashes into the inside of the side netting to give Barcelona a lifeline.
Even with nine minutes of stoppage time, however, it's almost surely too little too late.
89th min: CHANCE, Barcelona! Now its Busquets's turn with a calamitous miss! A pinpoint delivery to the front of net finds Busquets, but he bundles it over the bar. Just a poor showing altogether.
83rd min: CHANCE, Barcelona! The hosts finally have the ball in the back of the net, with Sergio Busquets tapping in from an outstretched Frenkie de Jong effort, but it doesn't survive a VAR review, with Busquets clearly offside. No goal!
78th min: CHANCE, Frankfurt! Now it's Kamada's turn to miss, as he rifles a shot with topspin just wide right from a good tight-angle opening. Barcelona is in complete disarray, a total breakdown.
76th min: CHANCE, Frankfurt! There are enormous gaps in Barcelona's defense, and it's a miracle that Frankfurt doesn't have a fourth, cutting right through the heart of the home side's midfield. Borre ends up on the ball in the six-yard box with acres of space to shoot, but he shanks it well wide. A bad miss.
70th min: Eric Garcia makes way for Luuk de Jong, a final throw of the dice for Xavi needing a hail mary. Barcelona has just four shots on the evening compared to 12 for Frankfurt despite 76 percent possession.
67th min: GOAL! Frankfurt! It's over, Barcelona is crashing out of Europe, and it's a famous night for Eintracht Frankfrut. It all came from a throw-in, and Kostic applies the deathblow. Dest somehow was late arriving to Kostic, and Ter Stegen again couldn't reach a shot that wasn't hit with a ton of pace. A calamitous effort by Barcelona at home to bring an end to this season's European adventure.
61st min: The referee has a look, but does not call a penalty. The right call, as Borre had zero intent and was simply bracing himself against Torres as the ball popped up. The official is also having some equipment issues which is lengthening the delay. There will be significant stoppage time at the end of this one.
Adama Traore and Sergino Dest both enter for Barcelona, replacing Oscar Mingueza and Aubameyang.
58th min: Well well. We have a VAR check for a possible handball on the aforementioned free-kick from Jordi Alba, and the referee is going to the monitor. The delivery was low and poor, but it pops up and clips the outstretched arm of Borre as he battled with Ferran Torres. It did hit his arm, but this would be incredibly harsh if a penalty is called…
During the delay, Barcelona ultras are shown departing their seats in protest over Barcelona fans who sold their tickets to Frankfurt fans. There's a massive German contingent in the stadium, all dotted around the stadium in white shirts, clearly proving they obtained tickets through secondary means.
56th min: Just incredible. Barcelona has an enormous flurry of touches in the Frankfurt penalty area, but despite the visitors' inability to clear, Barcelona cannot get a shot off. Hosts with just three shots on the day despite 75 percent possession and 458 passes to Frankfurt's 150.
Jordi Alba follows moments later with a horribly under-hit free kick.
47th min: CHANCE, Barcelona! WHAT. A. MISS. Aubameyang! Ousmane Dembele is the only Barcelona player having a good game. He springs free down the right, and it gets by the Frankfurt defenders and goalkeeper Trapp, but Aubameyang flubs it with the goal gaping. Incredible.
Barcelona continues to show a sense of urgency, but the inability to create shots or finish the few ones taken is debilitating.
46th min: Back underway for the second half. Time to see if Xavi can engineer a big second-half turnaround, or if Barcelona will succumb to European disappointment here at home.
One halftime substitution for the hosts as Frenkie de Jong comes on for Pedri, who has apparently picked up an injury, adding insult to injury for Barcelona.
Halftime: Barcelona 0-2 Eintracht Frankfurt
An absolutely stunning scoreline, but no less than the German side deserves. The visitors have defended with aplomb and countered with such venom that Barcelona has no idea how to handle the break.
Frankfurt has nine shots to Barcelona's two. It's been one-way traffic as far as possession for Barcelona — to the tune of 75 percent — but Frankfurt had all the dangerous moments in the first half. Barcelona needs an enormous comeback to keep from crashing out of Europe altogether.
44th min: CHANCE, Frankfurt!  Barcelona is pushing and pushing with a real sense of urgency, but the hosts just cannot contend with the Eintracht Frankfurt counter. Knauff goes close again with a shot that blazes over the crossbar from the right after he puts a defender on his rear end.
36th min: GOAL! Frankfurt! Barcelona has responded well after the early opener, but it's all fallen apart! It's Rafael Borre who does it all, cutting in from the left and letting loose from a good distance outside the top of the box. Nobody closed him down, and Ter Stegen should be saving from that distance out. It's a mystery why he was so far from the effort. Could Barcelona be crashing out of Europe at the hands of the ninth-placed team in the Bundesliga?
35th min: Frankfurt works a shot from excellent work by Ansgar Knauff down the right, as the 20-year-old German cuts inside and dribbles around two Barcelona defenders, but his off-balance shot is weak and skids into the arms of Ter Stegen.
28th min: A Barcelona corner turns into an excellent Frankfurt counter and Gavi is forced to yank Lindstrom back to end the threat. Gavi is booked by the referee, already the third card given out in the match before the half-hour mark. Xavi is furious on the sidelines, and it forces the official to go over and give him a talking to. This has been a very intense and emotional match. Gavi is suspended for the next match alongside Garcia if Barcelona advances.
24th min: Kristijan Jakic is given a yellow card by the referee after a heavy collision with Ferran Torres, meaning he is suspended for the next match if Frankfurt advances. Jakic is incensed, yelling right in the referee's face for a long and heated nose-to-nose exchange which only ends when a teammate comes and pulls Jakic away. He has to be careful, it was a deserved yellow for blocking Torres off.
20th min: Barcelona appeals for a penalty as Jordi Alba goes down in the box under an Almamy Toure challenge, but the referee waves it away. Alba is FURIOUS, slapping the ground in anger, but there's hardly anything in that. No clear and obvious error for VAR to intervene.
18th min: CHANCE, Barcelona! WHAT A SAVE by goalkeeper Kevin Trapp! The former PSG man tips a close-range effort over the crossbar from another Barcelona set-piece. That's a highlight reel stop.
12th min: Ousmane Dembele is playing out of his mind. He clowns Filip Kostic on the wing and wins another free kick for Barcelona. It comes to nothing, but the Frenchman is clearly on a mission to will the hosts back level. He's already won three fouls and is 4/4 dribbling!
10th min: CHANCE, Barcelona! The hosts come ever so close to another quick equalizer, as a brilliant Dembele cross with the outside of his boot finds the head of Pierre-Emerick Aubameyang. The Gabon international sends the ball across the face of goal, but it sails just inches over the crossbar.
6th min: Barcelona, onto the attack for the first time in the match, has a dangerous free-kick after Ousmane Dembele is fouled a good distance outside the top-right corner of the penalty area. The delivery isn't cleared for some time, but eventually it turns into a Frankfurt counterattack which is only snuffed out by a good interception just past the halfway line.
4th min: GOAL! Frankfurt! It's Filip Kostic to take the penalty, and the Serbian delivers with a low slotted delivery past Ter Stegen. It sets the significant German contingent in the crowd into delirium. Barcelona now playing from behind again, as it was in the first leg.
3rd min: PENALTY, Frankfurt! The German side has been in control for the first few minutes, and Eric Garcia wrestles down Jesper Lindstrom in the penalty area. Garcia gets a yellow card for his troubles, and deservedly so, as his right arm was wrapped around Lindstrom's shoulder and neck. Garcia is suspended for yellow card accumulation should Barcelona eventually advance.
1st min: We are underway! Almost immediately Frankfurt's Raphael Borre goes for goal from nearly 40 yards out, and as you might expect, it's nowhere close to goal. The German side is confident to open the match!