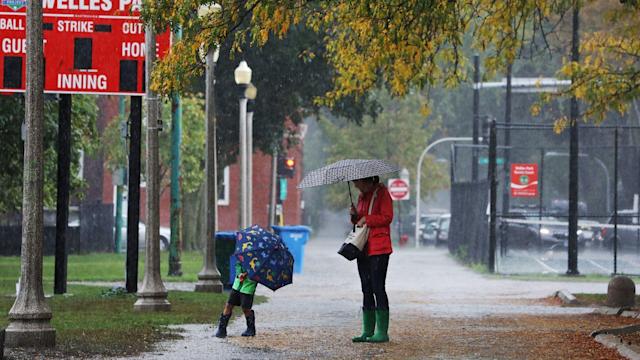 A tornado watch has been issued for the Chicago area until 9 p.m., according to the National Weather Service.
Ottawa, Streator and Pontiac have a severe thunderstorm warning until 6:45 p.m. with wind gusts to 70 mph, according to the weather service.
Most of northern Illinois and parts of northwest Indiana were covered by the tornado watch, forecasters said. A marine warning for possible water spouts was briefly in effect during the afternoon as thunderstorms rolled across areas including Winthrop Harbor, Wilmette Harbor, Northerly Island and Calumet Harbor.
Earlier, Game 4 of the American League Division Series between the White Sox and the Houston Astros at Guaranteed Rate Field, scheduled for Monday afternoon, was called off.
There were showers off and on through Monday afternoon that held the potential for funnel clouds or tornadoes. After 4 p.m. on Monday, there was the possibility of hail, heavy winds and tornadoes, with the storm moving north at a rate of 50 mph.
The last line of thunderstorms are down towards Bloomington and central Illinois and will be moving north between 7 p.m. and 8 p.m.
"The bulk of it will be during the afternoon and evening hours and then begin to kind of taper off overnight," said Jake Petr, a weather service meteorologist. "We should be dry for most of tomorrow and then tomorrow night with another chance for some showers and thunderstorms again on Wednesday."
The Sox-Astros game will be made up at 1:07 p.m. Tuesday at Guaranteed Rate Field.
The biggest concern is that winds could evolve into a tornado, of which Petr said forecasters "can't rule out with any of these storms."
Petr recommends people have a reliable way to be alerted to a tornado watch or warning, such as a weather radio.
Temperatures will remain relatively warm for October over the next several days. Monday the high temperature is forecast in the mid- to high 70s with a little dip into the 60s on Tuesday and Wednesday.
Rain is likely to be widespread Monday and Wednesday. Precipitation is forecast at anywhere between an inch to a ½-inch over Monday, although some pockets in Chicagoland may see more or less.
"That'll be good to keep things working in that sense, we've been so dry a lot of this year," Petr said.