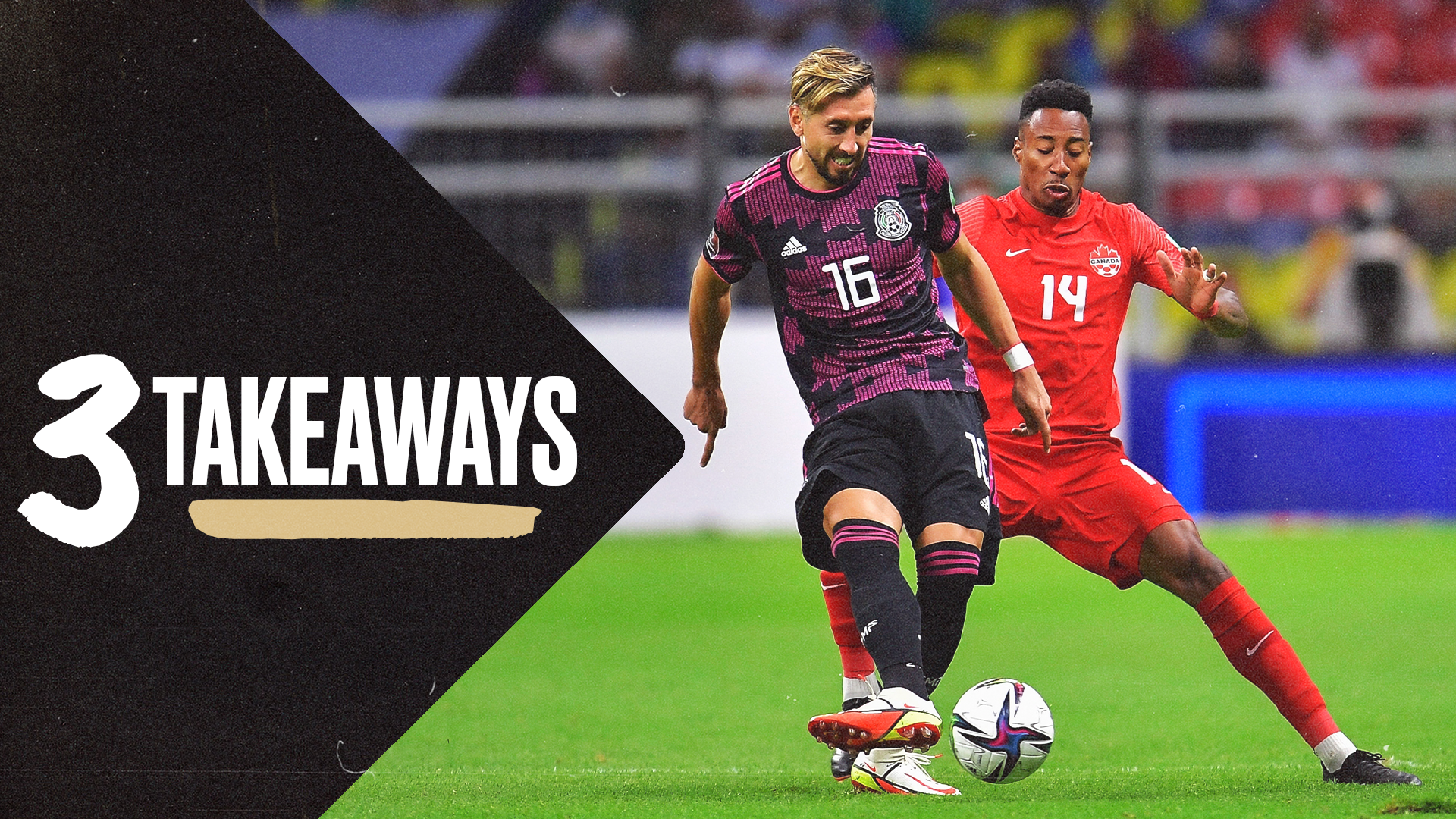 Canada earned its first result in Mexico since 1981, as Jonathan Osorio responded to Jorge Sanchez's opener and secured a 1-1 draw with the Mexicans in Concacaf World Cup qualifying on Thursday night.
Here are three takeaways from the match.
Three years ago, Osorio was the goal-scoring hero for Toronto FC against Club America in the second leg of the Concacaf Champions League semifinal at the same venue. He finished the Champions League campaign as the season's Golden Boot winner.
Wearing a different shirt in 2021, but playing in another marquee game, it was Osorio who converted right before halftime to clinch the historic point for the Canadians. Despite being deployed as a midfielder, the TFC midfielder executed a striker's run and finish for the goal.
In setting up Osorio for the strike, Alphonso Davies picked up his 14th assist for the national team, the joint-most in the program's history.
Osorio's goal on Thursday also snapped a long dry spell for Canada, who had been outscored 20-0 in their previous five games at Estadio Azteca dating back to 1980.
"For me, it was the best performance I've seen [Osorio] play in a Canadian jersey," said coach John Herdman. "I've seen Jonathan grow over the last three years into a solid leader in this team," said coach John Herdman. "When I came in, he was an emotional guy. But over three years, he's embraced that next level of leadership. He's done a big part in setting the culture in this team, both on and off the pitch and I just thought that he embraced it."
Canada could've made up for that lost time even more in the first half. Osorio's TFC teammate Richie Laryea pulled off a terrific, slalom run down the left before testing Guillermo Ochoa with a shot from distance before Tajon Buchanan fired the ensuing rebound over the bar. Davies also missed a sitter in front of goal a few minutes before Osorio's equalizer.
"I love it now that we are getting asked that type of question," Herdman responded when asked if a draw was satisfactory. "I'm content with the point, but at the same time, I think there was an opportunity to take three."
At the Gold Cup, Canadian players were adamant that they are entering every game believing they can win, no matter the opponent. They backed up those claims on Thursday.
Sometimes it's easy to take Richie Laryea's positional flexibility for granted. The defender entered MLS as a midfielder with Orlando City, eventually staked his claim as a right-back and earned a string of Canada call-ups as a result.
Nowadays, though, Laryea is thriving as a left-back or left wingback hybrid of sorts. He was one of Canada's most dangerous players in its final September qualifier against El Salvador, and built on that showing with a terrific two-way performance on Thursday.
Laryea finished the game with four tackles, two interceptions and eight recoveries. Not bad considering he was facing Jesus "Tecatito" Corona, one of Mexico's most dangerous attackers.
Eventually, Laryea moved to right back in the 76th minute after a triple substitution for Canada and locked down that flank as tightly as he did on the left.
Players like the 26-year-old are highly valued in the international game for their flexibility, and that is one of many reasons why Laryea has become a key figure for Canada over the last two years.
Canada couldn't escape Estadio Azteca without suffering some minor blows. Steven Vitoria, Richie Laryea and Tajon Buchanan picked up yellow cards in the draw, meaning they are suspended for Sunday's game against Jamaica.
On the bright side for coach John Herdman, he will have midfielder David Wotherspoon and forward Junior Hoilett as options for the match. Both players were forced to skip Thursday's game due to the United Kingdom's COVID-19 travel restrictions from Mexico. They will join up with the team in Kingston.
That could be the case for Besiktas duo Atiba Hutchinson and Cyle Larin as well. Both players were ruled out versus Mexico with minor muscle injuries, but could be fit in time to play against the Jamaicans.
It's not ideal, but at least Canada has the depth to cope with these situations.