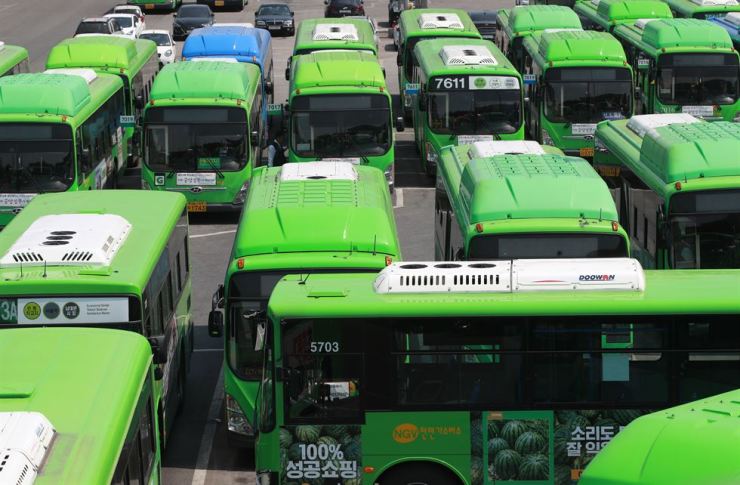 Unionized bus drivers threatened Wednesday to go on a nationwide strike next week unless companies meet their demand to raise wages.
The Korean Automobile and Transport Workers' Federation, the nation's largest bus drivers' organization, said its members in 10 major cities and provinces, including Seoul, Busan, Daegu, Gwangju and Gyeonggi Province, approved the walkout plan during a vote conducted Monday and Tuesday.
Of about 39,200 participants, more than 96 percent voted yes, the group said.
If no agreement is reached during the one-week dispute settlement period, federation members in the 10 regions will launch a stoppage next Tuesday or Wednesday, and more regions may join the action, the union said. It expects the strike will involve about 45,000 drivers.
The strike call came after bus companies and workers failed to narrow their differences despite multiple rounds of wage talks.
Hit by the COVID-19 pandemic, bus operators across the country did not raise wages last year. In recent negotiations, they rejected workers' demand for a pay hike and demanded a freeze for the second consecutive year.
In Seoul, the strike was supported by 87.3 percent of participants in the vote. If they walk out, 98 percent of buses in the city will be off the roads, the union warned.
The union in the capital is demanding a pay increase of 322,276 won ($261) per driver. The management rejected this, calling for a freeze. Wages rose 2.8 percent in 2020 but were unchanged in 2021 due to financial difficulties caused by the pandemic.
In Busan, the nation's second-largest city, 97.5 percent voted in favor of the walkout, the local chapter of the federation said. The drivers are demanding an 8.5 percent wage rise, but bus companies have also demanded a freeze.
In the southwestern city of Suncheon, drivers already walked off the job, grounding about 110 city buses on 30 lines early Wednesday. There are two bus companies in Suncheon, operating a total of 156 buses on 55 lines.
To cope with the disruptions, the municipal government deployed 44 chartered buses, mobilized non-union drivers and increased taxi operations.
A government arbitration panel in the city has proposed a 3.2 percent wage increase, but the companies and union failed to reach an agreement. (Yonhap)