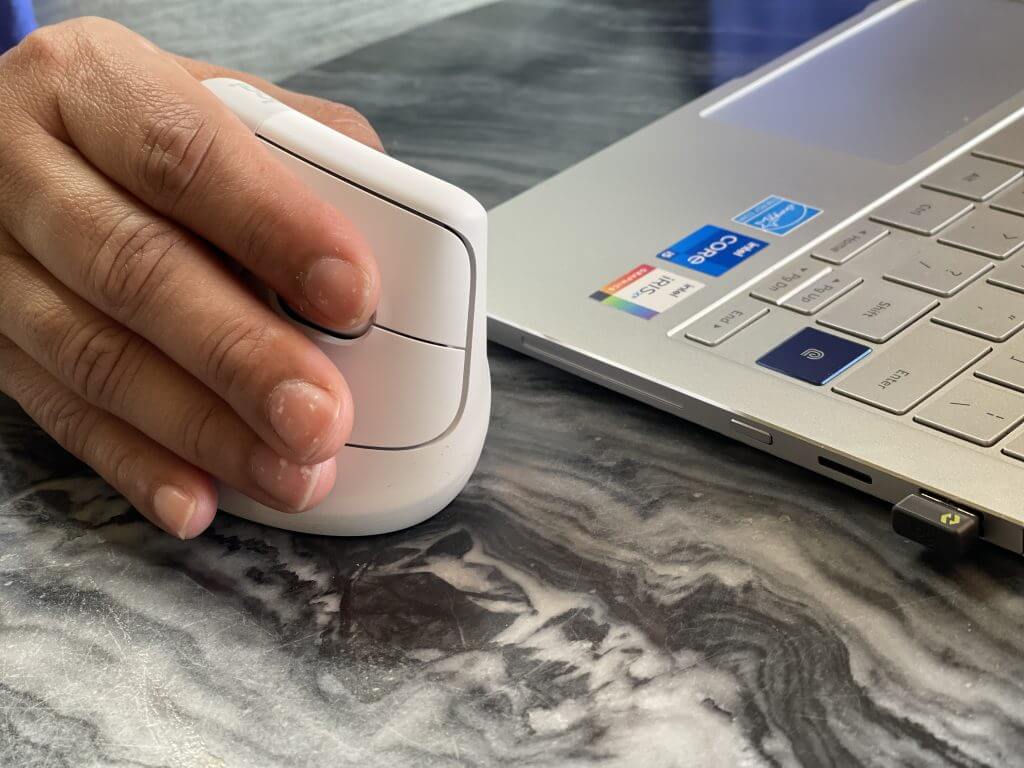 The Logitech Lift Vertical Ergonomic Mouse is a special mouse that's one of the comfiest and most intuitive that you can buy. It is all thanks to an amazing, design, customizable buttons, and so much more.
Computer mice come in all shapes and sizes, but all are not equal. Some are designed to be compact and portable, others are for gaming, and some are for productivity. Logitech, though, has the new Lift Vertical Ergonomic Mouse, which is all about comfort and promoting a better posture. I was sent one for review, and after using it as my daily driver for the past week, here's a little more on why I think the mouse is very comfortable and intuitive.
The Logitech Lift Vertical Ergonomic isn't your ordinary mouse. It is specially designed in Logitech's Ergo Lab, where testing is performed on products with real people through the use of pressure sensors, and various prototypes. That's why you'll find that the 57-degree vertical design naturally "lifts" your hand up to a more natural position to take pressure off your wrists. It's also why Logitech has a special left-handed version of the mouse, which is something not every accessory maker is able to accomplish.
If you're after dimensions, the mouse comes in at 2.8 in x 2.7 in x 4.25 in. It also weighs in at 4.4 oz. Logitech is using plastic on the Lift, which is what keeps it light and easy to move around a desk. A portion of Lift's plastic parts are made from post-consumer recycled (PCR) plastic. There are also six buttons on board the mouse, (Left/Right-click, Back/Forward, Middle button, Scroll-wheel with middle click.)
But looking at the main design, when compared to other products like Logitech's popular MX Vertical, the Logitech Lift Vertical Ergonomic is crafted differently. It sports what Logitech is calling a "Zen" surface. That surface has a rubberized grip, as well as a cozy thumb rest, which is more refined for smaller hands like my own. It's a change from the MX Vertical, which has a more premium "heavy" feel and an anodized aluminum finish.
For me, this design means that during my long days of work, I felt as though my palm naturally fit in with the shape of the mouse, just like I was shaking someone's hands. There are no pain points whatsoever, even when adapting from coming from a regular mouse. Logitech tells me that the Lift Vertical Ergonomic is 22% smaller than the MX Vertical and suggests that folks with larger hands try that product, instead.
In other areas of design, the mouse comes in three different colors. There's Graphite for the left-handed version, and Rose or Pale Gray for the right-handed version. I was hands-on with the Pale Gray option and will be giving away the left-handed version soon, so stay tuned!
The experience of using the Logitech Lift Vertical Ergonomic is really amazing. I'm accustomed to using a Logitech MX Master 3 as my daily mouse, and shifting to the Lift Vertical Ergonomic was great in terms of comfort and productivity in three very specific ways.
The first way has to do with the buttons and scroll wheel. My usual mouse, the MX Master 3, can be pretty loud when clicking through webpages. Additionally, the clicks produce a sort of "hard" reaction and a small bounce back on my fingers. With the Logitech Lift Vertical, clicks are softer and quiet. To test this, I actually gave my mom the mouse to use for a short period, and when I went upstairs to my home office, I didn't hear her clicking, as she normally would with her regular mouse. The Lift Vertical Ergonomic is truly quiet and can help you keep focus.
And speaking of quiet, the magnetic SmartWheel is quiet, too. It's quite smooth to use for scrolling web pages and makes almost no noise. I also loved the rubber texture, which helps in controlling finer precise movements in longer documents that I frequently edit or scrolling on web pages. One thing I did miss, though, was the side-scrolling wheel from my MX Master 3, but it's something that's worth the sacrifice, as this mouse is all about comfort, and getting that perfect grip. Note that the SmartWheel on the Lift is the same as the Signature M650, which is a traditional mouse.
Second up is the connectivity options. The Logitech Lift Vertical Ergonomic is easy to pair. It works with up to three different devices, via Bluetooth, or the Logi Bolt USB receiver. I paired the mouse up with my iPad Pro via Bluetooth, a Samsung laptop via USB dongle, and a Surface via Bluetooth. A button under the mouse lets you switch between devices. It's a feature that's also on my MX Master 3, and something I've come to love since one mouse can now do it all for me, and in comfort, too.
Finally, is the third thing, which is the way the mouse is powered. I really do love rechargeable mice, but for a product like this one, having AA batteries makes a lot of sense in terms of design. There's no "hole" in the front of the mouse for cables, which really helps keep the Lift look clean and keep to its ergonomic theme.
Simply pull the bottom off the mouse (it is attached magnetically,) and you'll see a space for the dongle, as well as the AA battery. The battery lasts up to 24 months according to Logitech, which is great. I got a little extra peace of mind knowing that I didn't have to find a cable to charge my mouse if it dies. AA batteries are common, and the ones included held a 95% charge out of the box.
I'll end this section by mentioning the sensor technology on the mouse. In use is Logitech's Advanced Optical Tracking. This means you get up to 400-4000 DPI. It's fully adjustable within 100 DPI increments with the button under the scroll wheel. I usually keep the DPI in the midrange level, but that's a personal preference.
Finally, I'm at customization. This is what makes Logitech MX products great, and it is no surprise that the Logitech Lift Vertical Ergonomic is supported by Logi Options +. Plug the mouse in, boot up the app, and you'll be greeted with an introduction, and ways to customize your mouse. Spoiler alert, there are many!
Of the things I customized on my mouse are the side buttons. Being an editor, I copy and paste text a lot, so I programmed those to do exactly that. You also can tweak the scroll wheel to change scroll direction or enable smooth scrolling. Or, change the pointer speed. The final week I made to the mouse was the middle button, which I swapped out to summon task view. All of these help in boosting my workflow.
Outside of all that, app-specific shortcuts can be enabled for the buttons, too. Compatible apps include Chrome, Edge, Teams, and Microsoft Office, though you can add your own apps if you see fit. For me, in Teams, I configured the buttons to start and stop the video, mute and unmute the mic. The possibilities are endless, though!
Priced at $70, the Logitech Lift Vertical Ergonomic Mouse is well worth the money. Compared to its expensive sibling, the MX Vertical, the mouse is a lot comfy for folks with smaller hands. It's also smaller, lighter, and has awesome customization options. This makes it a special mouse that's one of the comfiest and most intuitive that you can buy.